PRESS RELEASE
10th Year Anniversary Celebration Gift – Crystal Paperweight
12 Sep 2007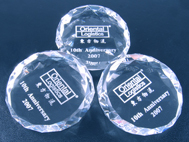 Oriental Logistics is celebrating its 10th Year Anniversary on June 30. Various gifts were designed to celebrate this memorable moment. The crystal paperweight is one of them. It is round shaped with the 10th Year Anniversary celebration logo engraved.
Crystal always signifies the ability to forecast the future, to know the unknown. It implies that Oriental Logistics would have the ability to know the unknown, to have insights into the future development of the industry, create and lead the future trend. That is what an industry spearhead would do.
The crystal paperweight also implies the decade-long history of Oriental Logistics. In 1997, it started the business with public warehousing for general cargo and various kinds of dangerous goods, and some physical cargo distribution. Later it started providing high end, high value-added services such as e-commerce logistics, third party warehousing, total logistics services, inventory management and freight forwarding…all of which consolidates the nowadays market role, as the spearhead in the industry.
The precious crystal paperweights were sent to Oriental Logistics staffs, in order to share the joy of 10th Anniversary with all of them. Colleagues were delightful to receive it as a gift. They also believe that the future of Oriental Logistics would be as bright as the crystal paperweight indicates.