PRESS RELEASE
The Managing Director Of Oriental Logistics, Mr. Gilbert Lau, Gave A Presentation During An E-Business Update Seminar Held By: The Chartered Institute Of Logistics And Transport In Hong Kong, Sharing On "How Can IT Applications Enhance Logistics Operations"
09 Nov 2007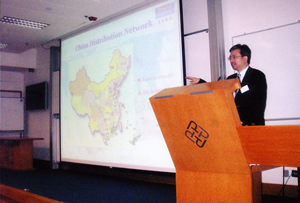 The Managing Director of Oriental Logistics, Mr. Gilbert Lau Wai-kwong, was invited to give a presentation on the MILT Day, an e-Business Update Seminar held by The Chartered Institute of Logistics and Transport in Hong Kong (CILTHK).
Mr. Lau gave a presentation on "How can IT applications enhances logistics operations", sharing his views on how to utilize technology to help the logistics industry stay competitive.
Mr. Lau is experienced in the Logistics Industry, Supply Chain Management, Warehouse Operations and Inventory Management. Hence he was invited to share how to overcome key business and technology challenges in supply chain management in Hong Kong.
The key to staying competitive is to have good and effective communications and cooperation with customers. The invitation of CILTHK further proves and confirms Oriental Logistics effective communications with its customers over the years, especially through the interactive IT logistics systems.
Mr. Lau is pleased to be invited and wishes his sharing, would help the participants to understand more about logistics supply chain management.