PRESS RELEASE
Fire Prevention Seminar
09 Nov 2007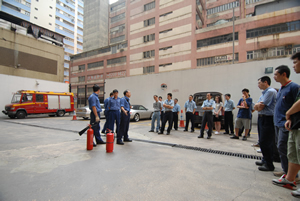 In order to raise the staff awareness safety and fire prevention, Oriental Logistics held two Fire Prevention Seminars. A team of firemen was invited to the company headquarters to teach fire prevention and safety knowledge. Also, they gave demonstrations on how to use the fire-fighting facilities.
The fire prevention seminars were held in the conference room in the company headquarters. Afterwards in the car park area there was a demonstration on using fire extinguishers.
Oriental Logistics wishes to improve the fire preventive knowledge, as well as to raise the safety awareness of staff through the fire prevention seminars, so as to avoid outbreak of fires. The Human Resources Department of Oriental Logistics held the seminars and there were about 60 staff attending in all.