PRESS RELEASE
The Managing Director Of Oriental Logistics, Mr. Gilbert Lau, Gave A Presentation During A Seminar Held By: The University of Hong Kong, Sharing On "How to Improve B2C Project's operations with Pick-To-Light System"
09 Jan 2013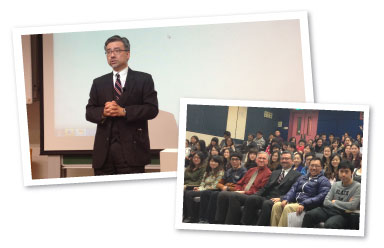 The Managing Director of Oriental Logistics, Mr. Gilbert Lau Wai-kwong, was invited to give a presentation on the Seminar held by The University of Hong Kong (HKU).
Mr. Lau presented a case study on "How to Improve B2C Project's operations with Pick-To-Light System", sharing his views on how to utilize technology to help the logistics industry stay competitive. The case is one of our B2C Project, large numbers of daily replenishment orders are sent via Electronic Data Interchange (EDI) into our tailor-made Enterprise Resource Planning system (ERP). And each order requires many items for different destinations. So, we setup a smooth linkage and data exchange between our Pick-To-Light System and our ERP to improve the effectiveness of our warehousing operations, as well as a better time and resource management.
The key to staying competitive is to have good and effective communications and cooperation with customers. The invitation of HKU further proves and confirms Oriental Logistics effective communications with its customers over the years.
Mr. Lau is pleased to be invited and wishes his sharing, would help the participants to understand more about logistics supply chain management.